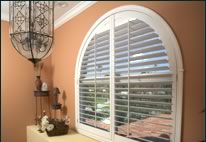 Shutters and Millwork Industries' Premier Series consists of our highest grade shutters. These functional works of art are manufactured from the finest materials. The Premier Series shutters are available in both stained and painted finishes. Shutters for staining are constructed of basswood.

SMI Premier Series shutters can be crafted into nearly any custom size or shape. Angles and arches have been configured to even the most demanding specifications.

SMI Premier Series, for the most discriminating customers.